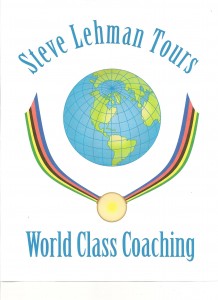 So, you're a world champion or maybe just a wanna-be athlete looking for improvement on the club ride. You've already bought that state-of-the-art bicycle. That didn't help. You've even replaced the little nuts and bolts with titanium ones, and that didn't help. How about the extra miles you added to your training regimen? That didn't help. What else can you do? Maybe you should consider a coach.
Why do you need a coach? Think about all the great athletes, such as cyclists, runners, gymnasts, football, baseball or basketball players. What do they all have in common? They all have a coach. Why is that? Who knows more about cycling than Lance? Who knows more about soccer than Beckham? Who knows more about tennis than Venus or Serena? Maybe or maybe not their coaches, but their coaches do get the most out of them. Would you like to move closer to or even reach your potential as an athlete? Would you like the best bang for your buck? Maybe you should hire a coach.
Okay, so you have determined you need a coach. Why choose Steve Lehman? Steve Lehman is a national champion and a world record holder on the bicycle. In fact, he has won just about everything he has attempted on the road and on the track (velodrome). He's been a national and world ranked triathlete, as well as a respectable amateur runner. Since 1987 Steve has entered 470 races, placed top 5 in 373 and won 218 triathlons, duathlons, track and road cycling races.
Here is another important "qualifying" factor. At 45 years of age Steve Lehman could not compete with a 70 year old Steve Lehman. At 45 Steve was hard pressed to ride 40 kilometers in less than one hour. Ten years later (at age 55) he rode a personal best at 40 kilometer on the track in only 53 minutes and 42.4 seconds (on the way to establishing a World Hour Record that stood for the next 10 years). With his training program Steve is still improving, having established a new personal best at age 63 for a long course, road time trial (35 km 27.6 mph) and this year at age 70 a lifetime, personal best for the 10 mile time trial at 21:07 (28.4 mph).  Across the board he has become a better athlete than he was at age 40. These results weren't due to an athletic superiority. In fact, he is just an older version of the younger Steve Lehman who, over the years and through trial and error, observation and a willingness to do what it took to improve, has learned how to get the most out of the limited amount of time he could dedicate to training.  He can do it for you, as well.
Also, and at least as important, Steve Lehman is a professional coach. He has worked as a coach in tennis, soccer, track and field, and cycling.  He has been the Director of the American Cycling Academy and a head coach at the Valley Preferred Cycling Center in Trexlertown, Pennsylvania from 2004 to 2012 before moving to Rock hill and setting up as Resident Endurance Coach at the Giordana Velodrome.  Steve coaches with an uncommon passion.  He understands that your achievement of a goal is his achievement, as well.
The cost of Steve Lehman Basic Coaching per month is $195.00.  There is no set-up fee or long term obligation.  Our agreement is month-to-month.
Why not contact Steve at steve@stevelehmantours.com or call 610-698-3032 for details and a no-obligation interview and start to realize your potential, today?